'We have tried really hard over the past four years to work with this government and tell them what our children and families need, but they still haven't delivered'
Article content
With election signs dotting the Greater Sudbury landscape, parents of children with autism waved a different kind of sign on Saturday, but one they hope will also affect the outcome of the June 2 provincial election.
Article content
Parents gathered in a parking lot near the New Sudbury Centre before marching in protest of Doug Ford's Progressive Conservatives and their handling of the Ontario Autism Program, which has seen its waitlist double to more than 53,000 — roughly enough to fill Rogers Centre in Toronto — since the PCs took power in 2018.
The Sudbury event was part of a province-wide day of action that also included protests in cities such as Toronto, Mississauga, Ottawa, London and Thunder Bay.
Julia Ritchie-Staddon is a member of the Ontario Autism Coalition, an organizer of Saturday's event and a parent of two children with autism, seven-year-old June and five-year-old Charles. She says June has been waiting for comprehensive therapy, called intensive behavioural Intervention or IBI in Ontario, since 2017.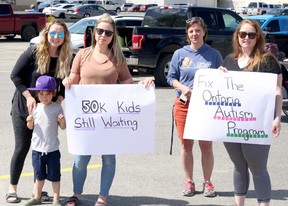 "We have tried really hard over the past four years to work with this government and tell them what our children and families need, but they still haven't delivered," Ritchie-Staddon said. "Not one child has come off the waitlist for comprehensive therapy in Ontario the whole time they have been in office and that's not OK.
"If we talked to parents about their children entering school and we said the government doesn't have enough money or the government is not prioritizing it, so your kid can't start Kindergarten and they're just going to have to start in Grade 2, it wouldn't be acceptable to anybody and this is not acceptable to us. It's not just therapy, it's education for your kids, so that they can learn to read and write and talk and communicate and be social. It's a need, not a want."
Article content
Ford has promised he will support Ontarians with autism, including both children and adults. His office has defended its changes to the Ontario Autism Program, which it says is based on need, and has highlighted an increase in funding to $600 million per year.
"They may have written in their budget a larger amount, but that amount is not actually getting to families," Ritchie-Staddon said. "Very small amounts are getting to families who can't purchase comprehensive therapy. They have changed the program twice now while in power and families are just still waiting. Have we received some interim funds for our children? Yes, but does that cover the $80,000 a year my son needs for therapy? No."
Sophie Barrette travelled from Ottawa to take part in Saturday's protest.
"It have to be here," she said. "It's too important to our kids not to be here. We have to get the message out and people need to be aware that there's 53,000 kids, autistic kids, waiting in this province alone, for therapy.
"More and more people know somebody who is autistic and has someone with autism in their life and people need to understand exactly what we're fighting for and know that the government, in Question Period and with their talking points, they're just misleading the community."
Barrette has a six-year-old daughter and a four-and-a-half-year-old son who was diagnosed with autism at one year of age and is still waiting for funding. She has remortgaged her home to pay for his therapy.
Article content
"I'm a nurse and I'm working just about two full-time jobs to pay for the therapy," she explained. "I just don't have the time and the energy for the kids, the way that I should. It's a huge expectation.
"My son is getting what he needs because I was able to pay for it, but I'm here because there's a lot of people who can't do what I did. They have multiple children on the spectrum and it's not a possibility for them and that's just devastating, to see those kids miss out on the potential they had, to lose all that window of early intervention. Some of these kids have been waiting for six years, with nothing."
For more information about the Ontario Autism Coalition and its #50KisNotOK campaign, visit www.ontarioautismcoalition.com.
Twitter: @ben_leeson
https://www.thesudburystar.com/news/local-news/sudbury-familes-protest-ford-governments-handling-of-autism-programs